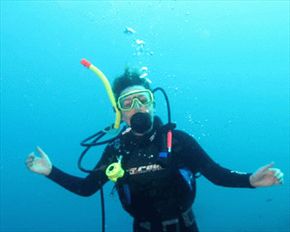 browse (1 / 3)
If itís anything that South Africans really appreciate that ranks higher than soap operas, sports and boerewors, itís frolicking in the ocean. Spending a day at the beach for South Africans is as normal as spending a day at home. Because there are so many activities you can engage in while at the beach. So if youíre an avid scuba diver, then South Africaís the place to be on your next holiday.
Believe it or not, there is a variety of excellent scuba diving facilities located right in the heart of Johannesburg. Scuba diving is a favourite pastime amongst many South Africans based on its dual ability to thrill and exhilarate all at once. There are many top accredited diving institutions and PADI 5 Star Instructor Development dive centres in and around the city of Gold. Most contain excellent facilities such as lecture rooms, heated pools, dive rental shops and media amenities. At these Scuba Diving Centres, you have the choice of attending beginners to basics lessons. If youíre a diving instructor, you can attend classes to gain a higher qualification or training in rescue missions.
Just because the beach isnít located in the heart of urban Johannesburg, it doesnít mean that you canít still enjoy the thrill and exhilaration of scuba diving. The difference is that most of these Scuba Diving Centres have brought the thrill even closer to home. So if you happen to be in Johannesburg any time soon, grab your flippers and dive right in.