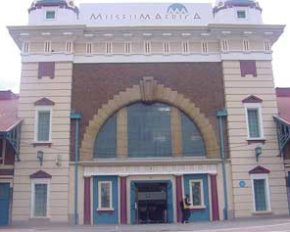 browse (1 / 3)
Once again the culturalists among us get to come out and play, show hell well studied we are and identify ourselves as an alumni of note. Someone whose knowledge, intellect and wit is ever mounting. Never to be questioned or challenged. This is just another chance for us to learn something new. The Museum Africa is located at the Newtown Cultural Precinct, the museum as you can imagine holds a variety of interesting exhibits , most of which pertain to the history of Africa, leading up to what we know today. Museum Africa 121 Bree St | Newtown, Johannesburg 2113, South Africa. This multi-media museum includes an audio/visual display of Nelson Mandela's treason trial.
The museum provides an honest and even self-critical look at some of the problems South Africa has faced. The museum's main focus is on the culture of the indigenous people, I would be failing you greatly if I failed to mention is the beautiful display of artworks, containing Pre-Raphaelite and Impressionist paintings, even an impression of 'the Anglo-Boer War'. Many South African artists are presented. Set aside a good couple of hours for your visit as there are loads of Geological specimens, prints, photos and numerous other objects of interest waiting to seize your attention and suck you in.
Address:
121 Bree St, Newtown
Tel: (011) 833-5624
Tues - Sun: 9:00 - 17:00
AECI Dynamite Factory Museum
Is housed in the 1895 residence of a mining official, records the history of explosives, with particular emphasis on their use in the mining industry. It also provides a social commentary and insight into the part played by some of the world famous figures who helped shape the destiny of South Africa.
Address:
2 Main Street, Modderfontein, Kempton Park
Tel: (011) 606-3206
Mon & Fri: 10:00-14:00
Wed: 14:00-16:30
Adler Museum of Medicine
History of Medicine, brainchild of Dr Cyril Adler, was formally inaugurated 1962. The Museum`s role was to collect and preserve for posterity all material that would illustrate the History of medicine in general and of South Africa in particular.
Address:
Witwatersrand Medical School, 7 York Road, Parktown, Johannesburg
Work phone: 011 7172081.
Constitution Hill
Is the home to the Constitutional Court, but also the site of Johannesburg's notorious Old Fort Prison Complex, commonly known as Number Four, where thousands of ordinary people were brutally punished before the dawn of democracy in 1994. Many of South Africa's leading political activists, including Mahatma Gandhi and Nelson Mandela, were detained here.
Where:
Corner Kotze and Hospital streets, Braamfontein, Johannesburg
Tel: (011) 274 5300, 403 5191
Daily: 9:00 to 17:00
Hector Peterson Museum
Located in Soweto commemorates the 566 people who died in the student uprising that followed the events of June 16, 1976. The museum is named for Hector Peterson, a 12-year-old boy who was the first person shot dead by police on that day.
Where:
8288 Maseko Street, Orlando West, Soweto
Tel: (011) 536 0611
Mon - Sat: 10:00 to 17:00
Sun: 10:00 to 16:00
James Hall Transport Museum
This is the largest and most comprehensive museum of land transport in South Africa. It was established by the late Jimmie Hall together with the City of Johannesburg in February 1964.
Where:
Pioneers' Park, Rosettenville Rd, La Rochelle
Tel: (011) 435-9718
Tues - Sun: 09:00-17:00
Bernberg Fashion Museum
Bernberg Fashion Museum is a primarily a museum collection, consisting of objects, and explains why and how clothing has changed and how the fashions of the past influence those of today.
Where:
Corner Duncombe Rd and Jan Smuts Ave, Forest Town, Johannesburg
Tel: (011) 833-5624
South African National Museum of Military History
Museum and military history expertise in South Africa. You can see all types of guns, tanks, armoured cars, aircraft and naval hardware, including a one man submarine called the Molch used by the Germans in the Second World War.
Where:
Erlswold Way, Saxonwold (adjacent to the Johannesburg Zoo)
phone: 011 6465513
Zoology Museum
This is the only natural history museum in Johannesburg which is unusual since all the other major cities in South Africa have large public natural history museums. It has retained a unique character as the display specimens are exhibited in finely crafted teak cabinets which allow the viewer to engage directly with scores of objects at close range.
Where:
First floor, Old Education Building, Wits East Campus (opposite the Oppenheimer Life Science Building) phone: 011 7176464