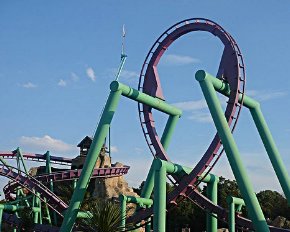 browse (1 / 8)
Gold Reef City, the place to be, Gold Reef City, if you dont know this ...honestly, you should be ashamed. Where else could one take a group of people of entirely different ages and sexes, leaving each equally excited,thrilled and satisfied. You travelling as a mixed bunch, this is the place to go, kids have a ball of a time on say the rides, the countless food stalls or even the new 4D Theatre [the first in Africa and exclusive to the theme park]
As for the adults I know you've watched Casino and countless other movies which have helped create the scenario of what a 'good, solid,eventful' gambling evening should be like, now you have the opportunity to enter the lions den,cards pointed,mouth zipped while at same time fulled with all top 'bluff' vocab and throw caution to the wind.
It's a theme park to experience, a package deal of note, fulled with loads of gaming, fun, fantasy, historical fact and [not to forget] safe parking.
Over 30 thrill rides
Jozi's story of Gold (Heritage Tour)
Restaurants
Amusement Attractions
Tribal Dancers
Kiddies Corner
Farmyard
A Victorian Hotel
Conference Facilities
Shops
Operating hours:
The Gold Reef City Theme Park is open Tuesday - Sunday from 9:30am - 17:00pm.
We are open every day during Gauteng School Holidays. Not open on Christmas Day.
Theme Park:
Tel: (011) 248-6800
Casino:
Tel: (011) 248-5000