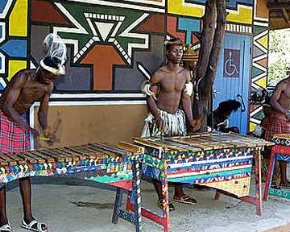 browse (1 / 6)
We are not all the outdoor sporty types, some of us fare much better in a cultural environment. I mean I do presume that that is one of the most predominant reasons some people travel anyway. To learn about a new and unique culture which differs from theirs, different rituals, different language, different traditional cuisine, different architecture too. Lesedi was developed in 1995 as a tourist attraction. Lesedi contains five different homesteads, each representing a different culture; Pedi, Zulu, Xhosa, Basotho and Ndebele.
There are options involved when visiting this cultural sanctuary, you could choose to just come for the day, a spot of lunch and a walk around, or you could take the other option…stay overnight. On arrival you the guest will be welcomed by the families and shown to your homestead where you will be spending the night. Kind of takes you back to school, like a foreign exchange student, except this will be a cultural exchange.
If you've come just for the day try do one of the day tours from 11.30am to 4.30pm. The restaurants definitely deserve a mention, there is a new one called, the Nile Room, hookah pipes and all, serving some great dishes indigenous to North Africa. It must be mentioned that belly dancing can be organized. Another culinary delight is the restaurant Nyama Choma- a 200 seater decorated in full African Garb while divided into three sections, North Africa, East Africa and South Africa [ seating the most] Then there are two Bomas, the traditional Ingoma, It is a huge indoor hut used for buffet and/or barbecue functions. Both Bomas accommodate 120 people.
LOCATION
In pristine bushveld at Broederstroom, just north of Johannesburg, conveniently situated on the R512 (the Lanseria Road) North of Johannesburg (and West of Pretoria) on the main route to Sun City and Hartebeespoort Dam.
DIRECTIONS
From Johannesburg take the M1 north and then turn west onto the N1 at the Woodmead interchange. At the Lanseria off-ramp, take the R512 north and proceed for 40 kms along the R512, Lesedi is clearly marked on the left-hand side of the road. There are alternative shorter routes from Sandton and the Fourways area that are well sign posted for Sun City, Hartebeespoort Dam.
From Pretoria proceed along Proes street, turn right into DF Malan Street west and then left onto the N4 toll road to Rustenburg. At the end of the toll road (14 kilometers) take the Pelindaba off-ramp south and turn left and then right onto the Pelindaba road, proceed west until the T junction where the R512 meets the Pelindaba road (at the T-junction Fruit stall) turn south (left) onto the R512 and 7 kilometers along the road, Lesedi is clearly marked on the right hand side of the road.
Tel:0879409933