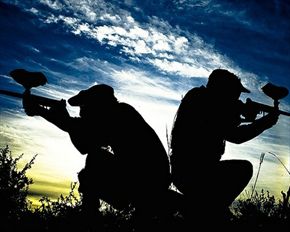 browse (1 / 3)
Johannesburg has much to offer those who want to experience the thrills and spills (literally) of some fast paced shooting action. Paintball is an extreme sport that allows you to safely shoot paint-filled balls at opposing team members, while you are hiding away in the hope that you wont be shot. The adrenalin rush of splattering bullets, rolling, diving, ducking and hiding is something that must be experienced at least once in a lifetime.
Johannesburg has many paintball venues to choose from, all of which are very affordable for visitors to South Africa. The scenery and geography of Johannesburg makes it an ideal place to experience this action-packed game for the first time. Joahnnesburg has a variety of accommodation to suit any budget. Whether you are looking for a backpackers, guest house, bed and breakfast, hotel, self-catering lodges, game farms, or the ultimate luxury, Johannesburg can offer you exactly what you seek. Travel to and from paintball venues can be arranged via taxi or hotel transfer. You also have the option to hire a car from a number of agencies, provided that you are carrying a valid drivers licence.
Paintball can be played in the rain or sunshine, so the weather will not affect your fun. It can also be played by older children and makes for a great family experience. Safety is paramount at the ranges, so fear not. Safety goggles, chest pads, helmets, and camouflage gear are all provided for you. All that's required of you is to point, shoot and eliminate your enemies.