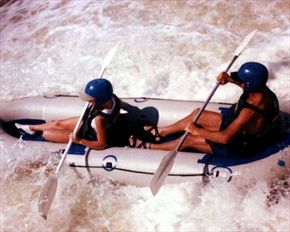 browse (1 / 3)
Johannesburg is an all-action, fast-paced city with a unique atmosphere indicative of the energy and vigour associated with the continent of Africa. Known as the City of Gold because of the 1880s gold rushes as well as Jozi it's recently acquired moniker Johannesburg is a kaleidoscope of diverse and popular attractions with visitors able to enjoy anything from sports to high-end fashion, theatre to fine dining, and arts and crafts to zoos and botanical gardens.
The city along with the rest of South Africa has recently been experiencing a boom in the attention extreme sports is receiving with locals and foreigners alike flocking to various recreational outlets to experience the adrenaline rush of a lifetime. Whether you're into bungee jumping, abseiling or power swinging, Johannesburg has it and much more. White-water rafting has always been a popular extreme sport and the public can now enjoy it on the Crocodile River close to Lanseria, which is about a 35 minute drive out of Jozi's CBD. The tour operator of Paddle Power proudly presents an experience that will blow your mind and get your blood pumping at a furious rate.
The Crocodile River is the perfect destination to enjoy white-water rafting as this water channel goes through narrow straits, rushing rapids, and other sections which are quieter and more relaxing. Whether you're a novice or a more experienced canoeist, taking on the waters of the Crocodile River promises to be challenging and incredibly enjoyable. The route the river takes is also quite picturesque ensuring those in the high-quality two-man inflatable canoe can enjoy beautiful scenery that has become the trademark of this part of the world.
Where:
Lanseria, Gauteng
Tel:
012 205 1278 or 082 742 1922