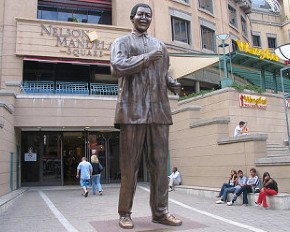 browse (1 / 2)
When Sandton Square (Johannesburg) celebrated its 10th anniversary -and 10 years of democracy in South Africa, it was renamed the Nelson Mandela Square. Also a statue of Madiba has been unveiled, and uncovered by his eldest granddaughter, Ndileka. All this in honor of the man who led this country to an equal rainbow nation. This 6meter statue portrays Madiba's positive vibe, in a dancing stance, which pays tribute to the spirit of joy and celebration inherent in the people of South Africa, known as the Madibe Jive.
Ndileka said: "While we honor Nelson Mandela in this statue, we are also honoring South Africa. He's not just a grandfather to us, but to the whole nation." Most were interested in why Sandton Square? Why not in Alexandra? Gary Vipond, Nelson Mandela Square manager, explained: "The square is optimistic, expressive and confident, like the Madiba jive, and represents a sophisticated, eclectic, cosmopolitan success story. "
The donors selected Sandton Square due to its geographical location in the centre of the Sandton CBD, also because it is one of the largest public open spaces in South Africa. The statue is known to be higher than the world's tallest giraffe, weighs 2.5 tons, the statue was sculpted by Kobus Hattingh and Jacob Maponyane.
The Nelson Mandela Foundation hopes to benefit from the statue's tourist appeal, by placing a donation box beside the statue. Liberty Properties, landlords, made the first donation of R50 000. Madiba did not attend the ceremony himself, his after all known for his humility. Ndileka explained, "He's taking a break". Either way, Madiba deserves this celebration, renaming of Sandton Square and the unveiling of his statue in honor of his courage and selflessness which led this country to freedom.