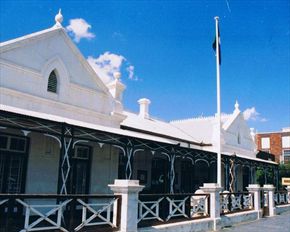 browse (1 / 3)
Visitors to South Africa are urged to make some time to spend in the countryís capital of Pretoria. Situated in the Gauteng province, Pretoria is a wonderful alternative after enjoying the hustle and bustle of electric Johannesburg, which is less than an hourís drive from the nationís capital. Pretoria is elegant, relaxed, and charming, and is home to some of South Africaís most important and significant landmarks. Its dedication to the countryís historical preservation is very evident at the interesting Kruger House Museum.
Kruger House was the last residence President Paul Kruger lived in before he took exile in Europe in 1903. Kruger House Museum is a beautiful Victorian-style period construction, which was built with milk mixed in with cement instead of water as the cement of the time was considered to be of poor quality. It was also one of the first houses in the city to have electricity and a telephone installed. Kruger House has since been renovated and refurbished from its modern beginnings to reflect the time Kruger and his second wife Gezina lived there and includes many of his personal belongings such as his private railway carriage, the State car he drove, and even a knife that he used to amputate his thumb after a shooting accident.
Paul Kruger remains a prominent figure in South African politics as he played a pivotal role in the fight for freedom from the British and has the Kruger National Park named after him as well as the Krugerrand coin. History lovers will appreciate spending some time at the Kruger House Museum where they will gain a deeper personal understanding into one of South Africaís premier statesman.
Where:
60 Church Street, Pretoria, Gauteng
Telephone:
+27 (0)12 326-9172