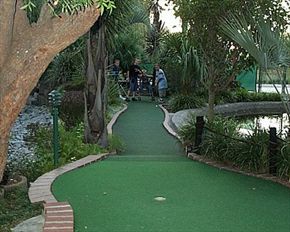 browse (1 / 4)
Johannesburg is Africa's premier destination promising an exciting and fun-filled experience for the whole family. Each year scores of travellers frequent Jo'burg ready to explore its amazing variety of attractions and activities. This fast-paced multi-cultural city is fused with a dynamic blend of influences and caters for just about every preference possible.
From sports to arts, fine dining to high-end fashion, Johannesburg is alive and pulsing with a plethora of stimulating happenings. Top-rated attractions in the City of Gold include the gaming haven of Montecasino, the Coca Cola Dome, Gallagher Estate in Midrand, the Nelson Mandela Bridge and the shopping Mecca of Sandton City. A new and exciting experience that is fast becoming popular in the city is the prospect of Adventure Golf. Located in one of Johannesburg's finest suburbs, Randburg, Adventure Golf has been taking South Africa by storm building a steady legion of fans enthusiastically supporting this new version of alternative sport. Perfect for the entire family, the Adventure Golf courses are located in a tranquil and relaxed atmosphere, usually surrounded by lush and fertile vegetation to give it a very outdoorsy ambience.
The game is played only with a putter, but most of the holes are par 3, 4, and 5, meaning that just about anyone can enjoy it and be successful at it. Adventure Golf has implemented a great new competition where members of the public can join a competitive league and challenge other members to a fun-filled and spirited contest. Located in Brightwater Commons, which has recently been revamped and renovated to further accentuate the experience, Adventure Golf also successfully caters for children's parties and corporate events.
Where:
Brightwater Commons, Republic Road, Randburg, Johannesburg.
Telephone:
+27 (0)11 886-4816