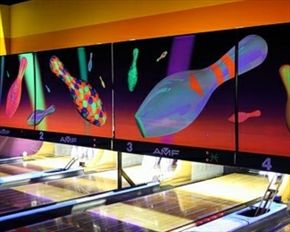 browse (1 / 3)
South Africa is renowned for its wonderful aesthetic appeal and numerous scintillating game parks that rivet and stimulate the senses. The country, though, has so much more to offer besides being a safari holiday destination and boasts a plethora of exciting and fun-filled activities. Johannesburg is the country's premier destination and without a doubt offers the best overall package in terms of diversity and convenience.
A new recreational sport currently taking the Republic by storm is ten-pin bowling, and the best place to get in on the action is at Galaxy World at the Zone @ Rosebank. Ten-pin bowling is one of the world's best loved sports as it is filled with non-stop laughs and one of the few games in which the whole family can participate in and enjoy together. Galaxy World has recently installed the popular AMF extreme package which features 12 trendy lanes with awesome UV lighting and impressive electronic scoring. The lanes of are of the highest quality meeting international standards easily while the Galaxy World staff are friendly and well-trained, able to meet and satisfy whatever need you may have.
Ten-pin bowling is a great way to spend as Galaxy World is able to superbly cater for corporate events, birthday parties, and any other social event where the order of the day is to have fun fun fun! Galaxy World also runs a social, but competitive knock-out league on Mondays and Tuesdays for those who want to test their ten-pin bowling skills against other equally talented bowlers; this is a good time for all with loads of special prizes up for grabs.
Where:
First Floor, the Zone @ Rosebank, Oxford Road, Rosebank, Johannesburg.
Telephone:
+27 (0)11 447-9141