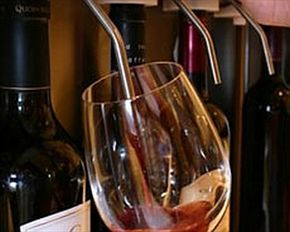 browse (1 / 3)
Johannesburg is a fascinating city of immense contrast and intrigue. Wonderful location, favourable weather, and a bustling multicultural society are just a few of ĎJoziísí features that have made it a premier destination for many travellers both locally and abroad. Johannesburg has a bit of something for everyone to enjoy and caters superbly for a wide range of tastes and preferences.
One of the cityís trendier suburbs Melville is home to the Winesense store, which houses a stunning assortment of wines, whiskeys, malts, and premium spirits collected from all over South Africa and the rest of the world. With its state-of-the-art complex, wine tasting at Winesense is an enjoyable and educational experience. The stylish interior of the store is more than just a wine bar and wine tasting as the expert staff endeavour to reflect not only the current food trends, but also the wines or spirits that will best complement each meal to ensure that both are enhanced and blend together as perfectly as possible. Winesense offers the discerning buyer top quality products at various price points and hosts top gourmet chefs as well as many fun events to make the time spent at the complex completely worthwhile.
Shoppers are urged to take their time and leisurely try various beverages to get an idea of what they like and donít like before purchasing the item they desire. The well-trained and expert staff are constantly on-hand to provide any assistance and to answer any queries a consumer might have. Tasting wine at Winesense is a must-do activity for all connoisseurs of good wine.
Where:
Corner 9th Street & Rustenburg Road, 53 Rustenburg Road, Melville 2109
Telephone:
+27 (0)11 482-1020