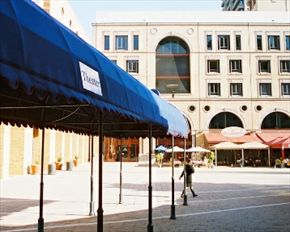 browse (1 / 4)
Visitors to Gauteng can look forward to a wonderful journey filled with excitement and many lasting, unforgettable moments. Though it is the smallest province of South Africa's 9 states, Gauteng is home to Johannesburg – the country's commercial and economic hub – and Pretoria, which is the nation's capital. Johannesburg is a premier destination of note and is known for its efficiency and excellent services and amenities.
The city has a wide variety of activities to explore and enjoy with every taste and preference catered for superbly. Whether you enjoy sports, high-end fashion, or re-connecting with nature, Johannesburg has it all in abundance; top attractions in the City of Gold include Gold Reef City, Coca Cola Dome, Montecasino Gaming Complex, and the Johannesburg Zoo. One of the more popular pastimes the city enjoys is that of the theatre with the wonderful Theatre on the Square being a prime draw card amongst the public. Located in affluent Sandton on the prestigious Nelson Mandela Square, the Theatre on the Square was founded some 9 years ago and continues to produce superb masterpieces.
Guests can look forward to watching a number of diverse-genre productions including plays, musicals, children's theatre, and lunch hour performances, in a purpose-built 200-seater arena that really accentuates the dramatic ambience which make these productions so entertaining and heart-felt. Theatre on the Square or Liberty Life Theatre as it is also known, has produced nearly 100 spell-binding shows and also runs a regular youth theatre training programme which specialises in the performing arts ensuring that it also gives back to the community.
Where:
The Liberty Life Theatre on the Square, Nelson Mandela Square, Sandton.
Telephone:
+27 (0)11 883-8606