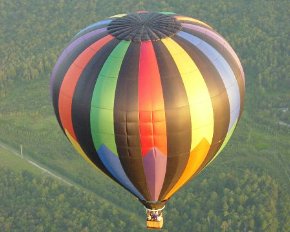 browse (1 / 5)
Fly over exquisite landscapes and lakes while admiring the crisp morning sunrise in your own hot air balloon. This is an exhilarating yet awe-inspiring experience.
The adventure may take you back in time to your childhood days when you would lie on the grass gazing up at the sky wondering what it would be like to be a cloud. Now, at last, you can live out your childhood fantasy and float amongst the clouds.
Honeymooners are encouraged to take full advantage of this truly romantic expedition. Many of the hot air balloon operators offer champagne breakfasts, picnics or lunches as well as souvenir trinkits, all inclusive of the package.
Hot air ballooning is also a popular activity for brides and grooms, particularly for taking photographs. Believe it or not, some have even tied the knot in a hot air balloon.
Bear in mind that ballooning is dependant upon favorable weather conditions. If weather conditions are not favorable for safe flight, the balloon pilot may decide to reschedule the flight.
It is no cooler in the hot air balloon than it is on the ground so you are advised to dress according to the weather report for that day but most balloon operators advise against wearing open-toed shoes.