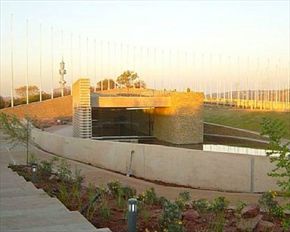 browse (1 / 4)
South Africa's freedom from the shackles of Apartheid is one of the world's most inspiring and heartbreaking stories. With the tragedy of segregation and the brutal punishments of those who fought for the equality of all South Africans played out on in front of the eyes of the world, the triumphant battle which led to freedom is one which constantly inspires and enthrals. Visitors flock to the country each year in the hope of discovering and learning more about the Republic's chequered, but hopeful history.
The Freedom Park in the capital of Pretoria is one of the important homage's dedicated to the heroes of the struggle, which is the ideal place for those who want a deeper insight into this story. Freedom Park is symbol of the monumental struggle South Africa faced, and as Nelson Mandela said in 1999, it's a place to honour those who fought and were slain so that those of us left behind can enjoy the freedom we now have. The scenery surrounding Freedom Park is magnificent and showcases the wonderful beauty of Pretoria, with visitors able to enjoy the contrasts between the city's lush and fertile terrain, and the hustle and bustle of the CBD.
The daily tours of the park reveal the essential human values of dignity, equal rights, and freedom, and how a nation stood together and sacrificed whatever it took to break free from slavery. This wonderful refuge helps South Africans reconcile its history with the present while remaining a symbol for what the future could be as we come to grips with the sins of the past. Touring the Freedom Park is an emotional and inspiring experience, one which will leave people with a richer appreciation for the amazing gift of freedom.
Where:
Cnr Frikkie de Beer Street and Glen Manor Avenue, Menlyn, Pretoria.
Telephone:
+27 (0)79 873-9092