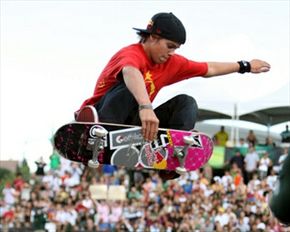 browse (1 / 4)
The province of Gauteng is South Africaís smallest, but yet itís most important too. While international and local travellers prefer the aesthetically appealing states of KZN and the Western Cape, Gauteng more than holds its own with an amazing range of activities and attractions to explore. The city of Johannesburg is the focal point of the province and also the countryís economic hub; it is busy, energetic and proudly South African offering a plethora of exciting amenities to frequent and enjoy.
Extreme sports is a favourite pastime of South Africans with skateboarding being one of the preferred recreation options. The Boogaloos Skatepark in the Brightwater Commons in Randburg is a premier skateboarding location. Boogaloos recently introduced the New Generation Skateparks, which have been designed by top skatepark engineers so the tracks are all of the highest international quality; the skateparks are well-equipped to host future international skateboarding competitions. Boogaloos Skate Park is a professional, yet fun-filled environment with the entertainment complex featuring an original skate lounge, an XBOX area, an extreme satellite television corner, vinyl mixmasters, and so many other hip and trendy features.
Boogaloos presents a terrific and convenient venue for all skateboarders regardless of age or boarding abilities, and prides itself on being drug, cigarette and alcohol-free. With its constant adult supervision, Boogaloos Skate Park is a great after-school hang-out spot and is committed to providing a safe and clean, yet exhilarating environment. Boogaloos encourages the public to become members of their New Generation Skateparks in order to receive numerous perks including unlimited access throughout the parks, awesome discounts, VIP passes to various events, and many other goodies.
Where:
Brightwater Commons Shop G51 & U80, Brightwater Commons, Randburg, Gauteng
Telephone:
+27 (0)11 787-4568