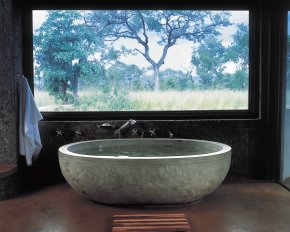 browse (1 / 12)
The 65,000 hectare Sabi Sands Game Reserve shares a 50 km unfenced East boundary with the Kruger National Park. The migration between the Sabi Sands Game Reserve and the Kruger National Park is limited, ensuring genetic diversity with an integrated biodiversity within the entire 2, 7 million hectare protected region.
Sabi Sands Game Reserve is the home of the finest luxury private game Lodges in the world located in the southern section of the Kruger National Park. Home to five of the most acclaimed 5-Star lodges, setting world-class standards in luxury accommodation, service, cuisine, special facilities and exceptional wildlife encounters. Highly trained and experienced rangers and trackers ensure that your African safari experience ranks amongst the best in the world. Expect to see the Big five and look forward to special close-up experiences on every safari drive.
Ulusaba-camp Owned by Sir Richard Branson, Ulusaba Private Game Reserve emphasis is on exceptional personal service. Selati Camp reflects yesterday's colonial era, a time when Late 19th Century construction began on the Selati Railway Line linking the western goldfields to the continent's East coast. Eight lantern-lit suites mirror this turn-of-the-century pioneer magic.
Today is present in the contemporary feel of Bush Lodge. Comprising twenty-five suites including the Mandleve Presidential suite, the lodge is styled and decorated in a contemporary African theme, ideal for today's relaxed atmosphere.
Experience tomorrow at the internationally-acclaimed Earth Lodge with its thirteen exclusive luxury suites - voted by Conde Naste as one of the world's top 50 hot spots. Designed like no other, Earth Lodge's breathtaking architecture, simple décor and innovative use of fabrics, fibres, light and space need to be seen to be believed.
Mala Mala-campThe reserve consists of three camps, Sable Camp, Rattray's and the Mala Mala Main camp. They are all pure luxury.
Click on the lodge to view deatils.