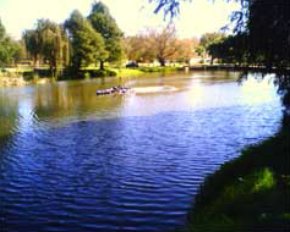 browse (1 / 6)
Itís a peaceful day, the sun is out, no wind and not a cloud in the sky-well-maybe one or two but they nicely dispersed and look pretty anyway. I like this in terms of being a young couple again, you know what Iím talking about, think those two crazy lovers rowing out in the Notebook, got it- I thought so! Take along a book, read aloud, recite some poetry, bring some food, your sun hat, oh and donít forget the a little bread. The reason for this is that when one goes rowing on Zoo Lake you get to feed the little ducks [I know you want to] word is that they are Ďravenous during the week, but overfed on weekendsí.
The rowing for me is the best part, but do not be fooled this is definitely not the only thing to do, there is of course the Zoo. Then around the lake thereís a park which is frequented by a variety of breeding bird colonies. Getting back to the rowing I must mention that the boats are hired, so do not feel that you have to suddenly appear with your own one, on top of that we have the swimming pool, tennis courts, bowling club and for moments of quenching ones thirst or filling ones tummy there is the tea garden [great for yummy tea time treats] and a restaurant.
Where:
Corner of Jan Smuts Avenue and West World Street, Saxonwold, Johannesburg.
Telephone: 011 646-5803
Opening hours: Closed on Mondays. From 1 September to 30 April: 09h30 to 17h00 and from 1 May to 31 August: 09h30 to 16h30.