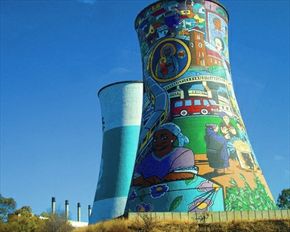 browse (1 / 3)
Soweto located in the Gauteng province is one of South Africa's greatest and most popular tourist destinations. Spanning 21 townships, this conglomerate if you like, is vibrant and alive, pulsing electricity through all that frequent its area. Unmistakably energetic, Soweto is steeped in a turbulent, yet fascinating history and oozes a fierce pride in its South African heritage.
It would then seem appropriate that one of the country's greatest adrenaline-pumping activities would be found in Soweto – Power Swing. Originally built and known as the Orlando Power Station and now South Africa's largest mural, Power Swing is a world-first as the two cooling towers have become the sight of the greatest thrill man has ever known. Escorted to the top of one tower, visitors can either take the floating stairs to the very top and check out what can only be described as a breathtaking view and then descend the same way they came … or they can harness themselves with the help of a well-trained expert and either descend the drop down the cooling tower or if they are feeling really brave can take a swing between the two towers!
The whooshing between the towers has the world literally flying past you as objects below and above become a dizzying blur of wonder - the unexpected feeling of freedom so sensational and addictive. There is really no way to appropriately describe the type of adrenaline and exhilaration power swinging generates; if you're in the Soweto area and are looking for the ultimate high, come and give this radical new extreme sport a try.
Where:
At the Sparkling Waters Hotel in Magaliesberg, North West / Gauteng
Telephone:
Towers +27 (0)71 674-4343 or Office +27(0)12 345-5114