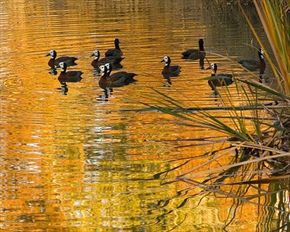 browse (1 / 3)
Pretoria is the elegant and conservative capital city of South Africa and is most famous for its richly steeped history and culture. Located in the north of the province of Gauteng, Pretoria's most famous landmark is undoubtedly the Union Buildings, which is home to the country's official parliament. The other trademark feature of this wonderful city is its purple jacaranda-lined streets that distinguish it from other cities in the country.
Pretoria boasts magnificent picturesque surroundings as well as a convenient location as it is just a 45 minute drive from Johannesburg and has easy access to many other popular South African destinations including the Pilanesberg, Sun City and the Magaliesberg. A lovely family outing can be enjoyed at the Austin Roberts Bird Sanctuary in Muckleneuk – a suburb of Pretoria's. This sanctuary of nearly 12 acres of supreme wetlands, and just a stone's throw away from the popular Blue Crane Restaurant, is part of the Walkerspruit Open Space System in which two streams feed these wetland basins and therefore attracts a diverse array of magnificent bird species.
Austin Roberts Bird Sanctuary is a regular picnic spot for many families on Sundays and proves to be a tranquil and educational experience where visitors can have the terrific privilege of viewing blue crane and grey crowned crane birds, speckled pigeons, rock doves, and sometimes even the random Egyptian goose. The Austin Roberts Bird Sanctuary features supreme views of the fertile wetlands terrain as well as of the surrounding dam making a picnic here a lovely and peaceful occasion.
Where:
The entrance is on the right hand corner of Boshoff and Roper Streets, Muckleneuk, Pretoria.
Telephone:
+27 (0)12 440-8316