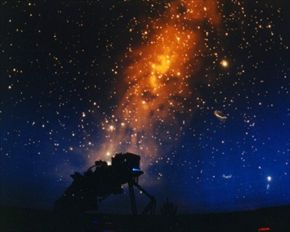 browse (1 / 4)
Do not restrict yourself to exploring the metropolis of Johannesburg when you could be discovering the galaxy at the Johannesburg Planetarium. Looking to the heavens makes your world bigger and expands horizons of the mind and the eye. The idea to reach for the moon started in 1956, when the Festival Committee, instituted to organise the celebrations in that year of the seventieth anniversary of the founding of the city, decided to raise the funds needed to buy and house a Zeiss Planetarium. The project was taken over by the Johannesburg City Council and finally sold the projector to the University of the Witwatersrand for use in the formal instruction of students and as a public amenity. Building commenced in 1959 and after a quick construction job, the first full-sized planetarium in Africa opened its doors to the public in October 1960.
Today there are various activities from family shows to school entertainment at the second biggest planetarium in the southern hemisphere where safe and informative outings form an important part of any education. There is always the bustling of school children and the loitering of astrologists in the rooms and a strong academic atmosphere makes one realise that the sky is not the limit as there is more to the solar system than meets the eye. The website and planetarium shares information about moon phases, sky reports, satellites and other fascinating facts. The website for the Johannesburg Planetarium even has a shopping link with telescope price lists and descriptions to have a closer look at the stars.
Introduction to Astronomy
A series of four introductory lectures, at the Jhb Planetarium.
Tuesdays starting July 14th, or Mondays starting Sept 21st
Cost: R160pp [for one 4-session series]
where:
Yale Road Entrance 10
University of the Witwatersrand
Milner Park
Johannesburg
Tel: (011) 717 1392