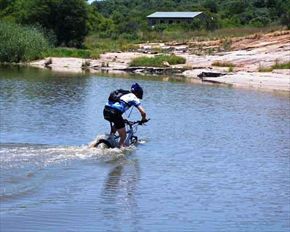 browse (1 / 4)
South Africa has become a popular destination for those eagerly-awaited family holidays because there is so much for every member to see and do. The city of Johannesburg is one of the country's premier locations as it provides a long and diverse itinerary of a wide array of activities and attractions to explore and enjoy. The city has a plethora of amazing sights to visit with some of its top attractions including Gold Reef City, the Johannesburg Zoo, the Royal Johannesburg Golf Course, and Sandton City; whatever you're preference Johannesburg has it and much more on offer.
For those who want to keep fit during their sojourn without missing out on the fun-factor, or for those who want to spend quality time with their families, mountain biking with the Johannesburg Mountain Bicycle Club - or JMBC - is the perfect way to do this. The JMBC was founded in 1989 and is one of the largest social clubs of its kind in Africa. JMBC is known for its passion for biking in the dirt and for enjoying the best Mother Nature has to offer during these riding journeys. The club has three categories of rides for their members to participate in: Domesticated, which is aimed at families; Untamed, which are mid-distance rides challenging those who are fairly proficient on their bikes, and Feral, which are preferred by cyclists in training for competitive races.
The JMBC organises many social rides on the weekends and during the holidays and is run by a committed band of mountain biking enthusiasts who promise to make any mountain biking excursion with the club a fun-filled experience for all.
Where:
Social rides in Lanseria, Irene or Midrand.
Telephone:
+27 (0)83 775-5871