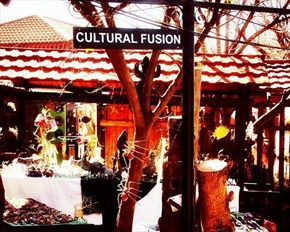 browse (1 / 5)
Johannesburg was dubbed 'Egoli' or 'City of Gold' by the early settlers during the 1880s gold rush and continues to thrive and develop continuously. Visitors enjoy the city immensely because of its fast-paced vibrancy and multi-cultural atmosphere along with its boundless amount of diverse activities to enjoy. Johannesburg has a bit of something for everyone to enjoy whether its entertainment outlets, shopping complexes, gaming havens, or international sports events. One of the popular pastimes most South Africans tend to enjoy is crafts and arts markets.
A favourite haunt is the Michael Mount Organic Village Market, which is affiliated with the Michael Mount Waldorf School located in one of Johannesburg's most upmarket suburbs Bryanston. The Michael Mount Organic Village Market started because of a school fair fundraiser in 1976 where parents had extra produce left over and decided to sell the excesses off to other parents in the school. Today, this Village Market is a thriving cog in the community and emphasises the use of natural materials to produce hand-crafted items as well as food stuffs being organically grown and free of preservatives. There are nearly 120 stalls with a diverse variety of merchandise on offer meaning you in all likelihood will not leave the market empty handed. Some of the goods for sale include silk, angora clothing, various embroidered linens, mohair, cotton, bed and table ware, and handcrafted leather.
The market also sells beautiful pieces of jewellery, pottery, and glass ensuring a wide range of tastes is catered for. The Michael Mount Organic Village Market is dedicated to helping artists, farmers, and musicians practice their talents while earning a living, and promotes the importance of sustainable development, biodiversity, and organic farming to all who frequents the market. The kids can enjoy pony rides and a gem scratch patch, while there are 3 tea gardens serving a delicious assortment of sandwiches, quiches, cakes, and pies to satisfy any apetite.
Where:
Culross Road (off Main Road), Bryanston, Sandton.
Telephone:
+27 (0)11 706-3671