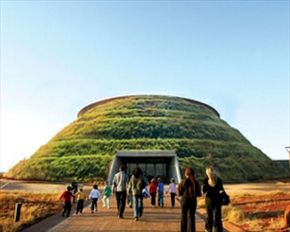 browse (1 / 6)
South Africa is home to many iconic landmarks that have become popular targets of interest especially with the overseas community - each landmark displaying a deep sense of history and intensity. The top world-famous sites in the country include Table Mountain and Robben Island in Cape Town, the Kruger National Park, and Sun City. The province of Gauteng is home to yet another famous destination – this time the World Heritage Site of the Cradle of Humankind.
The Cradle of Humankind – an easy drive from Johannesburg or Pretoria - is indeed a special institution that not only has a strong following amongst the locals, but overseas visitors are flocking in their droves to witness this marvellous tribute to the origins of human life and the subsequent progression from the past to the present. Maropeng is the visiting centre at the Cradle and features a riveting display of exhibits focusing on the origins of the human race and how our ancestors lived 3 million years ago. Maropeng means "returning to the place of origin" in the Setswana language and has received the prestigious 2008 South African Tourist Attraction because of its critically acclaimed exhibition. This highly-interactive exposition is a marvellous educational opportunity as visitors will be able to view the fossils and other stone tools used by their ancestors as well as trace back the steps that led to the creation of the human race.
One of the main highlights of a tour through the Maropeng Visitor Centre is the underground boat ride which takes visitors through 3 billion years worth of elements that helped in the formation of planet earth. The Cradle of Humankind is an indispensable national treasure documenting the incredible dynasty of human life and the Maropeng Visitor Centre makes discovering the history of our past that much easier and more convenient.
Where:
Maropeng Visitor Centre, Cradle of Humankind, Gauteng.
Telephone:
+27 (0)14 577-9000