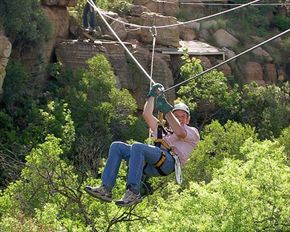 browse (1 / 4)
Gauteng may be the smallest of South Africa's 9 provinces, but in recent times it has become a major attraction for tourists visiting the Republic. Gauteng displays many contrasts, going from vibrant and electric in the city of Johannesburg to relaxed and refined in the country's capital of Pretoria. The province has so much to offer in terms of exciting attractions and activities, boasting a diverse assortment to satisfy every apetite.
The Magaliesberg, just an hour and a half outside of Jo'burg, is quite popular amongst locals and travellers alike as it is picturesque and provides refuge from the hustle and bustle of city life. The Magaliesberg Canopy Tour is one of the more adrenaline-pumping activities to embark on during your stay and guarantees an adventure like no other. Situated at the pristine Sparkling Waters Hotel and Spa, the Magaliesberg Canopy Tour is a unique experience that combines the thrills of extreme sports and the necessity of eco-friendly conservation into one convenient journey.
This Canopy Tour is a 2.5 hour outing down the majestic Ysterhout Kloof, which is located in the Magaliesberg. Eleven platforms have been erected on the rock faces and cliffs of this route and are connected by steel cables that each climber slides along to get from one platform to the next. This zigzag-like trip allows visitors to marvel at the beauty and panoramic views that surround these mountains, while the well-trained experts and guides that accompany you throughout the Magaliesberg Canopy Tour are on-hand to assure your safety and discuss the birdlife, ecology, plant species, and other interesting facts about the area.
Where:
At the Sparkling Waters Hotel in Magaliesberg, North West / Gauteng
Telephone:
+27 (0)14 535-0150
Booking is Essential!