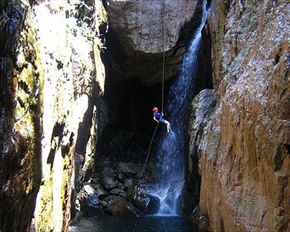 browse (1 / 4)
South Africa is known as many things for those living abroad – its turbulent history, its diverse society, and of course its beautiful safari parks, which are one of the main reasons it receives so many visitors each year. In recent times, though, the country has begun an earnest revolution in extreme sports with the province of Gauteng being one of the premier destinations in the country for travellers to get their ultimate fix.
The Magaliesberg has become the scene for the latest and ultimate in extreme sports – kloofing or canyoneering as it is also known. Kloofing combines two of the best extreme activities that are popular around the world – mountain hiking and abseiling – into a neat day-tripper that is sure to get the adrenaline pumping at a furious rate. The adventure starts with a sunny hike up a river valley, which includes wading through pristine crystal pools and climbing over imposing boulders as you chart your way up this water course. When you break for lunch after reaching the summit, you will be grateful for the chance to refill your lungs with air. After lunch, the descent takes place, which really gets the blood flowing; visitors will relish the rapid pace of abseiling through the waterfalls, gliding down boulders before plunging into pools and sliding down next to a stream on this amazing, yet challenging route.
Kloofing in the Magaliesberg is not for the faint-hearted and will be appreciated by those who love a challenge and are looking for the ultimate adventure. The route taken is an incredibly scenic one too, giving visitors the chance to marvel at the rare and wonderful beauty the Magaliesberg is renowned for.
Where:
Hekpoort, Magaliesberg, Gauteng
Telephone:
+27 (0)82 731-4696