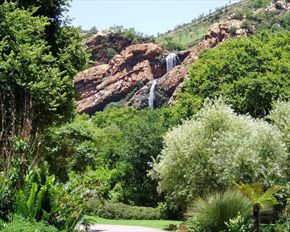 browse (1 / 6)
In life there are often moments where you feel that so little beauty remains to be seen, we find ourselves surrounded by city smog, skyscrapers and wet cement. Industrial. New buildings are popping up all over the place and so little of nature remains. Hence the Botanical Gardens are a wonderful escape from the drudgery of everyday city living, an escape into something beautiful, fairytale like, like a good movie you go to watch to escape reality for those precious two hours.Every movie has a theme, a genre if you will. This holds true for the Botanical Gardens too.
There's the Herb Garden; which has a section devoted to traditional African medicinal herb, not forgetting the old traditional herbs, plus culinary herbs, international medicinal herbs, oil yielding herbs and even cosmetic herbs. The herb garden is indeed infamous, rumored to be the best public herb garden in South Africa. Now,it must be mentioned that the Rose Garden was around before the Botanical Gardens had been established.
It is the oldest section, with approximately 4 500 roses displayed in 60 varieties, also sporting fountains, waterfalls, benches, ivy clad walls and the fragrance of fresh roses. Then there's the Shakespeare Garden, the garden grows flowers noted by Shakespeare in the 16th century and all are labeled with names and quotations from his various plays, but, for me at least, the most exciting part of the Shakespeare garden is the theatrical element, basking in the sunlight whilst enjoying an afternoon of song, dance and comedy. The list goes on and on, I would be doing the garden an injustice if I failed to mention hedge display, the succulent collection and the Alpine glass house.
Where:
Olifants Road, Emmarentia, Johannesburg, 2195
Tel: 011 782 7064