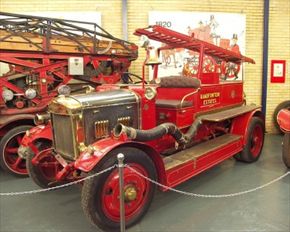 browse (1 / 4)
Gauteng is the smallest of South Africa's 9 provinces, but its importance to the country's economy and commercial concerns is paramount. Its focal point is the city of Johannesburg, which has an excellent reputation of offering a number of excellent amenities and services. One of the city's most popular facilities is the James Hall Museum of Transport and is the perfect outing for the entire family. The Museum was founded by the late Jimmie Hall and the City of Johannesburg in February 1964 and is the most comprehensive facility of its kind in South Africa.
The James Hall Museum of Transport as its name suggests is an extensive and thorough tribute to all forms of transport for the last 400 years. The museum boasts a large space and its impressive collection includes just about any form of transportation known to man including animal-drawn carriages, early bicycle versions, steam cars, trams, trolley buses, and trains. The museum has an extraordinary assortment of rare and important vehicles, along with an inclusive look at South Africa's transport history from farm carts to the first taxis used in the townships, to what the nation uses today.
The James Hall Museum of Transport is efficiently run and is divided into power categories, e.g. animal power or pedal power, making it easier for visitors to quickly locate their preferred transport category. The courtyard outside the museum features a magnificent collection of steam cars, which is definitely worth a wander through, while there is also a wonderful exhibit of the earliest surviving bicycles, including the penny farthing on display. A visit to the James Hall Museum of Transport promises to be an educational and exciting trip for the whole family.
Where:
Pioneers' Park, Rosettenville Road, La Rochelle, Johannesburg
Tel:
011 435-9718