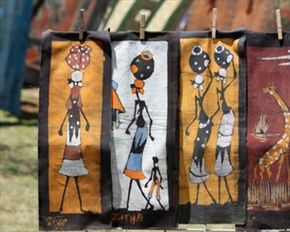 browse (1 / 4)
Visitors to Gauteng can look forward to a world of endless possibilities in terms of entertainment and recreational facilities as the province is known for its plethora of diverse attractions and activities. With pivotal cities including Johannesburg and Pretoria in the state, travellers are spoilt for choice with all they can do and the places they can see. There is a bit of something here for everyone to enjoy whether it be sports, the theatre, high-end shopping, or arts and crafts. A popular past time for most South Africans is craft markets; the Irene Village Market, 40 minutes north of Johannesburg, is one of the premier facilities on offer.
This classic arts and craft market is set on the shady slopes of the Smuts House Museum and has become a hit amongst the public largely because of its 'old-world' feel and top-class entertainment both for the adults and the kids. The Irene Village Market has received numerous accolades from prominent magazine publications and offers an assortment of fun-filled and pleasant activities to enjoy. Amenities at the market include numerous food stalls, a fully-licensed tea garden, and over 300 exhibits of clothes, arts and crafts, curios, flowers, and antiques. The Irene Village Market has successfully created an environment where artists and patrons are brought together to form a mutually beneficial relationship while the market also provides excellent family entertainment.
Irene Village Market only displays and trades original art and craft merchandise to ensure that their buyers receive only the highest quality and most authentic products; this also helps to promote and preserve the cultural heritage of Irene Village. While the adults are having fun exploring the numerous stalls and displays on offer, the kids are catered for and can enjoy popular pony and camel rides, the educational experience of candle-making, and the endless thrills of the jumping castles with their friends.
Where:
Smuts House Museum, Jan Smuts Ave, Irene, Gauteng.
Telephone:
+27 (0)12 667-1659