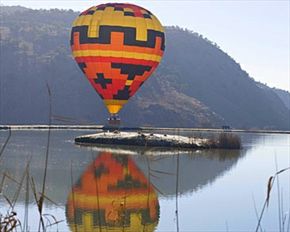 browse (1 / 4)
South Africa's reputation as a country of immense beauty and vivid natural spectacles is unrivalled on the African continent. With many locations ensconced in stunning scenery and drenched in famous South African sun, the choices for travellers are endless and diverse meaning they can easily enjoy their African sojourn. The province of Gauteng may not be renowned for its aesthetic appeal the way the Western Cape and KZN are, but South Africa's commercial hub has many destinations where Mother Nature is at her most supreme and a staggering array of activities to enjoy these rare privileges completely.
One such activity is the popular pastime of hot air ballooning. With the assistance of Air to Air Africa, the operator specialises in hot air balloon rides over the Cradle of Humankind. The Cradle of Humankind, near Lanseria Airport and about 35 minutes out of Johannesburg, is one of South Africa's premier dedications to the magnificence of Mother Nature. A World Heritage Site, the Cradle features game and nature reserves along the fertile banks of the Crocodile River and boasts panoramic views of the lush terrain that surrounds the parks.
Taking a hot air balloon ride over this spectacular setting is the only way to really appreciate the amazing existence earth provides us. Start the morning off with a delicious cup of tea or coffee while meeting your flight mates before ascending up to the skies and catching a glorious sunrise that Africa is famous for. This remarkable experience is emotional and enlightening as many people come to grips with how insignificant everything is in comparison to the splendour that radiates off our planet. On disembarkation, a celebratory champagne toast is enjoyed by the group before being whisked off to a full breakfast at one of the local eateries.
Where:
Air to Air Africa is based in the Cradle of Humankind, near Lanseria Airport, Gauteng
Telephone:
+27 (0)84 602-3491 (Sheree)