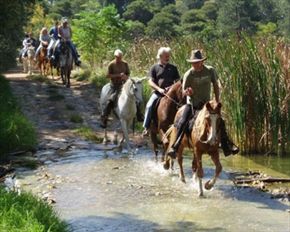 browse (1 / 3)
Johannesburg is a wonderful city that has become a premier destination throughout South Africa and the rest of the African continent. From the moment travellers set foot through the impressive terminals of O.R. Tambo International Airport, they get the sense that something incredibly special awaits them on the other side. Indeed this is very true!
A city of fascinating contrasts and diversity, Johannesburg continues to be at the forefront of new technologies and improved innovations. When you're tired of the rat race and need time away from the stress and congestion, head to Lanseria where you will find a piece of heaven on earth – the Northern Farm Nature Reserve. This majestic terrain is largely unspoilt and un-commercialised and is perfect for horse-riding, offering the finest in all equestrian disciplines. With no set route, each journey is an adventure filled with immense enjoyment and intrigue. The Northern Farm's routes are scenic and varying in degrees of difficulty; riders will find inclines, river crossings, canter stretches, and the like for them to take their horses out on.
The SA Horse Trails offers members of the public specialised and educational courses in western horse riding designed to get you riding like a cowboy; with a personal instructor and you're safety guaranteed at all times, whether you're a novice or an experienced rider, the SA Horse Trails is happy to accommodate you. The Northern Farm Nature Reserve is located amongst stunning scenery so people can just meander along on their horses and enjoy the beautiful views along with the abundant bird life if they prefer to not tackle one of the routes on offer.
Where:
Plot 33, Nietgedacht, Johannesburg North, Fourways / Lanseria.
Tel:
082 533-4545