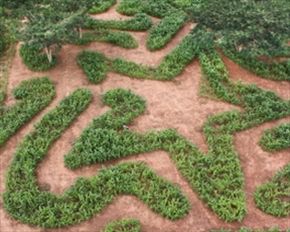 browse (1 / 6)
We present two giant mazes each year: the Maize Maze which operates from Feb to May each year and the Elemental Maze which operates from Jan & Jun to Dec each year.
The Maize Maze is 12,000sqm in size with over 3km of internal pathways. Every year there is a new design in-field multi-station fun general knowledge quiz. Over 8,000 people visit each year's maize maze: school outings, corporate events and teambuilding, parties for all ages and general public family adventure. The maze has a playing time of around 90mins and whilst it is a fun outing for kids it is also a real challenge for all ages! As the maze is a living field of mielies it has a natural ending when the corn is made and the field needs to be harvested. Nothing goes to waste as this crop is crushed to feed the various animals on the farm.
The Elemental Maze although smaller, 2,500sqm and 1,8km of paths, is just as much fun. There are 5 secret gardens to find, each one themed around the elements: Earth, Air, Fire and Water and the Garden of Reflection or Thought. Players have a task to complete in each garden but the real challenge is to find all of the 10 quizboard stations in the maze and answer the questions found there. Some people prefer the Elemental Maze whilst others prefer the Maize Maze.
Everyone who completes the giant maze wins a much appreciated ice cream, after their answer sheet has been marked. Everyone is a winner and the quiz is just part of the game.
So we are open all year. There is no need to book on weekends. We open at 10am and close at 5pm, with last ticket sales being at 2:30pm. We charge R65 per child (U15) and R90 per adult and there is a family ticket of R280 for 2 adults and 2 children.
Our contact numbers are 010 222 0075 and 073 795 2174. Judy is our primary contact.