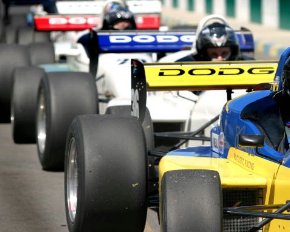 browse (1 / 3)
So you've seen the pros do it. Now try it for yourself: go racing. It has been a lifetime dream of yours: throwing yourself through bends of a world class motor race track in a mechanical beast with a V6, Dodge 3.5 litre engine. This is no longer a dream; but a dream come true. Build your own dream: this new concept in racing allows you the chance to customise the ride of your life. Choose from four world class tracks including Kyalami, in Johannesburg, Killarney in Cape Town, the Wesbank Raceway in Gauteng, and Zwartkops in Midrand. Zoom around the track in a carbon-fibre, original racing car built by the man who helped build Honda F1 BAR cars.
Put yourself behind the wheel and feel the track opening up before you. Carve your way through the field of corporate associates and friends to take top honours. Individuals, corporates and international guests are thrilled to find their names and company logos emblazoned on their custom race cars. Race alongside the professionals during the racing season; pick up tips from the best. Gear up and psych-out; the ride of your life is in store. The power of the cars is scary.
This is the closest you will ever get to F1 without actually securing an F1 drivers contract. Genuine pit crews put you in the action with powerful realistic effects. World class race tracks, two of which have hosted F1 Grand Prix events, await you. Race briefings and tips take you into the action with expert advice and feedback. For every armchair driver-spectator; for every Schumacher-in-hiding; and for every motor fanatic; go racing – this is the ultimate chance to prove your racing skills, and one of the most unique corporate and social events you will ever experience.