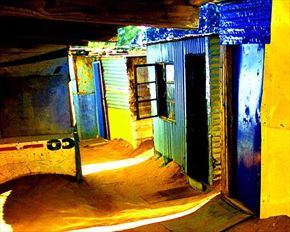 browse (1 / 3)
The streets are alive with music, laughter and dancing and experiencing life in the townships will change the perspective of any South African citizen or tourist. These tours are safe, informative and fun and visitors benefit greatly from the tours through the biggest and most vibrant township in South Africa. With a population of more than 3.5 million people, Soweto is synonymous with South Africa's turbulent past and the struggle for freedom.
Freedom Square is a symbol of the nation's struggle for liberty, Kliptown is the place where the Freedom Charter was drawn up and the Mandela Museum educates all visitors on the ex-presidentís long walk to freedom. Soweto boasts the only road in the world that's home to two recipients of the Nobel Peace Prize. Many tours include visits to African merchants selling traditional medicines, informal settlements, a creche, an old-age home, affluent suburbs and a typical "shebeen" (tavern). Soweto is a city of enterprise and cultural interaction and tours include bunjee jumps, restaurants memorials and shopping.
Day trips or stay overs at guest houses and bed and breakfast places make the trip a life changing experience. There are various tour operators that offer different packages from historical tours to shopping expeditions to weekend break aways depending on the needs of the visitor, but the sense of history and content in this metropolis shows that the spirit of South Africans is positive and hopeful.