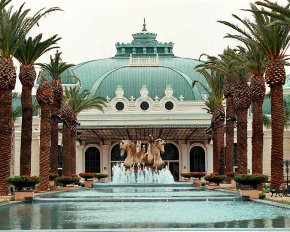 browse (1 / 5)
Joburg is a great town for gamblers and risk takers. There are 2 large casinos inside the CBD, two more on the outskirts, and others less than 2 hours drive away. Between them they offer over 8000 slot machines and 300 gaming tables - enjoy! While there are a lot of fine casino complexes in and around Joburg, the Emerald Casino Resort, situated on the banks of the Vaal, remains one of my favorites as it offers a winning option for day trippers or those wanting a few nights away from the big city.
This includes the combination of a restful night's stay in "the country", a top line-up of music events and pub entertainment, a small but appealing casino filled with the latest slots and table games, and for the outdoor types there are all kinds of river-related activities.
Montecasino
has 1700 Slot machines and 70 Gaming tables.
Situated in the city's north west. A wide variety tables, ensuring that every visitor finds an enjoyable game. Table games include Poker, Blackjack and Baccarat. Cashman and Monopoly were recently launched. On the premises, the Monte Casino Bird Garden, one of the city's top family attractions.
Gold Reef City
has 1600 Slot machines and 50 Gaming tables.
Located in the city's south-west. Table games include blackjack, roulette and six different kinds of poker. An exclusive section for high rollers is called the Club Egoli Salon Privé. The casino also features three smoking casinos, Saratoga, Barney's and Market Gardens. On the premises, one of the city's top theatres, catering especially for tourists.
Emperors Palace
has 1500 Slot machines and 50 Gaming tables.
Situated close to the Johannesburg International Airport and a 20 drive from the city's eastern suburbs. A unique game is "Rapid Roulette" where players bet on electronic touch screens but a dealer spinning a ball on a normal roulette wheel decides the winning number. There are progressive jackpot payouts from R1 000 to more than R3-million. For high stake players there is the Palace Court Privé.
Carnival City
has 1750 Slot machines and 60 Gaming tables.
Situated south east of Joburg, a half-hour drive away. Most Valued Guest status ensures visitors the best service and special parking facilities. This casino has the most Smart Card electronic slots and the largest non-smoking area in southern Africa. Some of the most sought after machines, Queen of the Nile and Double Nutty Jackpot, are now available.
Outskirts of Gauteng:
Carousel
has 782 Slot machines and 23 Gaming tables.
Open 11am till close, tables and slots are open 24 hours.
Oldest of the casinos in the Johannesburg region, located north of Pretoria, just over an hour's drive away.
Sun City Resort Casino
has 832 Slot machines and 38 Gaming tables.
The first South African casino, and the most famous, a three hour drive - but still popular, thanks to the immense range of other entertainment on offer. Open 24 hours for slot machines, gaming tables open from 1pm to close. Games on offer include American Roulette, Blackjack, stud poker and Punto Banco.
You'll never get bored in the city of gold.