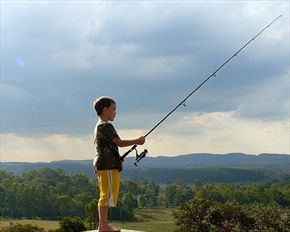 browse (1 / 2)
The province of Gauteng is the commercial and economic hub of South Africa and is regularly frequented by overseas and local visitors alike. While Gauteng is thriving and all-action, when it comes to stunning natural beauty and Mother Nature at her supreme best, many travellers will opt for the popular Western Cape or KZN provinces. Gauteng, however, is blessed with incredible natural spectacles with many of its holiday spots drawing increased attraction over the past few years. One such destination is the dazzling mountain terrain of the Magaliesberg and its picturesque town of Magaliesburg.
The Magaliesberg peaks have become a popular alternative for those seeking refuge from Johannesburg and Pretoria's fast-paced lifestyles and provides the ideal opportunity to reconnect with yourself and loved ones and revitalise tired minds and bodies. Fishing at the Kingfishers dams in Magaliesburg is one of the more sought-after pastimes that visitors enjoy during their sojourn; with three pristine dams and excellent expert guidance, fishing at Kingfishers is a pleasure as well as a thrill. There is the 'kiddies' dam' adjoining the entertainment area, which helps the anglers of tomorrow hone and perfect their talents while allowing their minders to keep them under surveillance at all times. The other two dams, which are both away from the entertainment area, are for more serious fishermen who are looking for more of a challenge.
The bottom of the third dam has been contoured especially to provide a stiffer contest as the trout can be fished either for dry flies in the shallows or with sinking rigs in waters up to 4m deep. Visitors to Kingfishers at Magaliesburg are in for a wonderful treat and are reminded that whatever trout they catch they must buy because the trout won't survive if you throw them back into the waters.
Where:
Rustenburg Road, 14km from Magaliesburg, West Rand.
Telephone:
+27 (0)72 276-8626