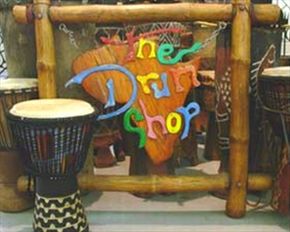 browse (1 / 3)
Johannesburg is Africa's very own city that never sleeps. Alive and vibrant, bustling and focused, "Jozi" as the locals call it, is one of the best destinations South Africa has to offer. With deep historical roots and heavily influenced with a unique fusion of cultures, Jozi has a diverse array of wonderful attractions and activities to keep each and every one of their visitors entertained and enthralled throughout their stay. As the city is one of many contrasts, travellers are likely to find many forms of recreation to let their hair down; one of the popular haunts on the scene is the Drum Cafe located in the trendy suburb of Newtown. Newtown is soulful and has traces of an otherworldly feel to it; this is epitomised at the Drum Cafe which is popular with locals and foreigners alike.
African cultures throughout history have contributed significantly to the musical landscape and have established their own individual collection of sounds and rhythms. At the Drum Cafe visitors will learn the famous gumboot dance as well as the amazing melodies they can make by just clapping their hands. Other enjoyable activities include boom whacking on a brightly coloured plastic tube very common in African music, and drum tapping on a traditional African drum while sitting in a circle. Finding your rhythm at the Drum Cafe in Newtown is a fun-filled experience with many laughs; achieving competence isn't difficult even for the most musically-challenged of people! The Drum Cafe is well suited for team building events and themed parties where people want to forge stronger bonds or just have a good old-fashioned South African party called a "jol".
Where:
At The Bus Factory, No. 3 President Street, Newtown. Open drum circles every Wednesday from 3pm to 4pm. Bookings Essential. (Last drum circle on Wednesday 9th December 2009).
Corporate:
+27 (0)11 834-4464 or + 27 83 577-8899 or Social +27 (0) 11 880-8339