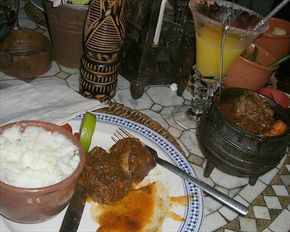 browse (1 / 6)
The city of Johannesburg is an eclectic kaleidoscope of various influences which often enthrals visitors who descend on South Africa's shores each year. Boasting an electric atmosphere, Johannesburg is its country's commercial and economic hub with its finger on the pulse at all times. Travellers to this city can expect excellent services and amenities as well as a diverse array of attractive activities to explore and enjoy.
When it comes to African fine dining, Johannesburg is unrivalled with one of the city's most prominent restaurants being the glamorous Moyo hot spot at the trendy and wildly popular Melrose Arch. Moyo means 'soul' in Swahili and this culinary experience proves to be exactly this as guests are immediately enamoured by the five levels linked by rustic copper and steel staircases, giving the restaurant an earthy African feel to it. Moyo features a wonderful Moroccan tent on its lowest floor, while stage two has beaded curtains to give diners more intimacy and privacy during their meals. Furthermore, there is a cigar lounge and wine cellar with a wine connoisseur on hand to assist you with any such needs.
As if this was not enough, each alcove and passageway between floors is adorned with African-inspired art and water features, highlighting the tremendous talent the continent has in abundance. The cuisine at Moyo is sumptuous and gourmet to say the least with diners assured of a mouth-watering and gastronomic selection of food to feast on. There is also a double volume centre stage where local musicians further accentuate the already romantic and dreamy mood with their wonderful and silky talents. As its name implies, dining at Moyo is indeed a soulful experience.
Where:
Moyo Melrose Arch, Shop 5 The High Street, Melrose Arch, Johannesburg.
Telephone:
+27 (0)86 100-6696