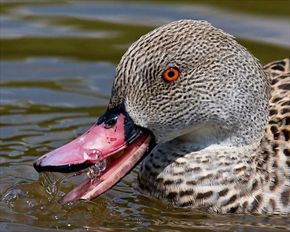 browse (1 / 3)
The province of Gauteng may be the smallest of South Africa's nine provinces, but it holds true to the saying that dynamite does indeed come in small packages. Gauteng, with its focal point in the city of Johannesburg, is intense and vibrant, fast-paced and lively. Johannesburg is South Africa's most populated city and radiates energy and colour, with the rat race being very much a top priority.
Though Gauteng-ers insist they live for the competitive and adrenaline-rushing juices that living in this glorious African city brings them, even they get tired of the chaotic and congested lifestyle and seek refuge in quieter pastures where they can get back to nature and enjoy the amazing bird life the country has to offer. The Treehaven Waterfowl Trust is the perfect sanctuary to get away from the stress of modern day life and re-energize tired bodies and minds. Just 3km out of Vereeniging, which is a 45 minute drive from Sandton, the Treehaven Waterfowl Trust is a natural paradise featuring 30 acres of specially-developed wetlands specifically aimed at conserving the world's waterfowl.
This stunning oasis is home to all 16 South African duck species as well as 116 types of exotic swans, geese, and ducks, and 65 species of wild water birds. Visitors to Treehaven Waterfowl Trust can also look forward to seeing 4 types of Flamingos, which the trust breeds in its special captivity programme and releases into the wild. Once guests have had their fill of exploring Treehaven's wetlands and viewing these magnificent birds, they can head over to the on-site coffee shop with its panoramic views and enjoy light refreshments.
Where:
Treehaven Waterfowl Trust, Vereeniging, Gauteng.
Telephone:
+27 (0)16 423-6740