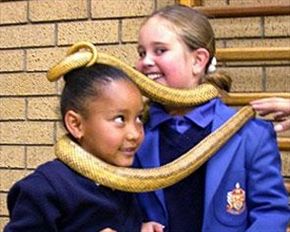 browse (1 / 3)
Visitors to the province of Gauteng can look forward to a wonderful journey in one of South Africa's most vibrant states. The province has an exciting plethora of activities for its guests to enjoy with many diverse options available to satisfy any preference. The Hartbeespoort Dam near the stunning Magaliesberg terrain is one of the magnificent natural spectacles to visit in the province. With its glorious scenery and tranquil atmosphere it is the ideal refuge for those who want to get away from the hustle and bustle of Johannesburg, which is the focal point of Gauteng as well as South Africa.
During a visit to Hartbeespoort Dam, travellers can enjoy a variety of pursuits; among the more interesting and novel recreational activities to get involved with is taking a snake course. Offered by the Hartbeespoort Dam Snake and Animal Park and approved by the Field Guides Association of South Africa (FGASA), taking a snake course goes beyond the realms of mere interest as it is an educational experience about one of the world's deadliest creatures.
Snake courses conducted at the park can be taken year round and contains subject matter such as Snake Awareness, the handling of snakes, a rescue course, snake bites and the treatment of such inflictions. These courses can be engaged in by anyone from novice to experienced with the Hartbeespoort Dam Snake and Animal Park tailoring packages specifically for those professions that are likely to deal with snakes on a regular basis – mining companies, paramedics, nature conservationists, and even the SA Police Services.
Where:
R511, Hartbeespoort Dam Eastern shore, Hartbeespoort Dam.
Telephone:
+27 (0)12 253-1162