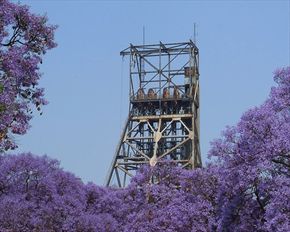 browse (1 / 4)
The province of Gauteng is South Africa's most important region as it is the country's commercial and economic hub. With the pivotal cities of Johannesburg and Pretoria central to the province, commuters travelling through Gauteng can look forward to world-class facilities as well as easy access to many ports in the country and the rest of Africa. Gauteng's array of activities to enjoy is boundless and diverse, promising travellers a unique African experience. One of the more popular destinations in this province is the sumptuous Cullinan Diamond Mine.
In the early 1900s, the small town of Cullinan, east of Pretoria, gained instant world-wide fame and recognition upon the advent of the discovery of diamonds. On January 5 1905, Frederick Wells unearthed what is now known as the Cullinan Diamond - a 3108 carat rock, which is purported to be the largest uncut diamond ever found. Besides this, the Cullinan Diamond Mine has produced many other prominent gem stones, and in total a staggering 120 million carats has been mined. Today the mine is four times larger than that of the Big Hole in Kimberley and is fully operational, contributing towards 25% of the world's gem-quality diamond output.
The daily tours available are fun-filled and educational with visitors able to embark on both surface and underground tours. Tour operators eagerly explain how geology plays a vital part in the creation of these precious gems before speaking about the extraction and cutting processes of these stones. A visit to the Cullinan Diamond Mine is a wonderful excursion for the whole family and guarantees to be one of the highlights of your trip.
Where:
Premier Diamond Mine, Cullinan, Gauteng, South Africa
Telephone:
+27 12 734 0260