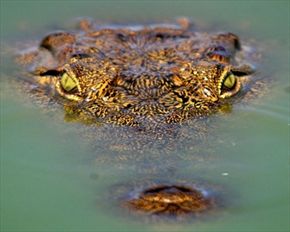 browse (1 / 4)
Johannesburg has become the city of choice for many people wanting to travel to South Africa and experience the many contrasts the continent has to offer. Usually when travellers want to enjoy the stunning array of game parks and nature reserves on offer, they head to Mpumalanga where the awesome and iconic Kruger National Park is located. However, in recent times, Gauteng and Johannesburg especially have started contributing in a pivotal way when it comes to showing off the amazing animals on display in these parts.
The Croc City Crocodile Farm, just north of the city, is one of the parks visitors can explore when they want to witness one of the world's most famous predators in action. The Croc City Crocodile Farm boasts an impressive total of 800 crocodiles ranging from hatchlings to species over a whopping 4m in length. This is a fun-filled day-tripper perfect for the whole family as the well-trained and friendly staff takes you on an optional guided tour through the park and distributes pamphlets at the entrance, which often answers many frequently-asked queries.
Croc City also has a lecture room where members of the public can watch a video presentation detailing the A-Z of these fearsome creatures. One of the highlights at the Crocodile Farm are the feeding sessions; these take place on Saturdays and Sundays and visitors are urged not to miss them. A visit to the Croc City Crocodile Farm promises to be a wonderful and educational experience; an added benefit is its enviable location as it is in close proximity to Lanseria Airport, the Cradle of Humankind, and is en-route to Hartbeespoort Dam.
Where:
Nietgedacht, Crocodile Ramble, Gauteng.
Telephone:
+27 (0)83 321-1016 or +27 (0)83 657 7561