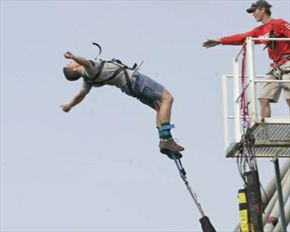 browse (1 / 5)
South Africa is a holidaying paradise as it features many popular locations for travellers to explore and enjoy. While the likes of Cape Town, the famous Kruger National Park, and Sun City are all iconic South African destinations, the province of Gauteng has in recent times become a tourist hub largely thanks to its impressive array of activities and attractions. Gauteng is the country's smallest province, but its ability to satisfy the tastes and preferences of its visitors is unmatched and unrivalled.
This region is fast becoming known for its fond penchant of extreme sports with its top extreme sports haunts including the power swing in Soweto, the Magaliesberg canopy tour, and the Boogaloos Skatepark in Randburg. Now add to this impressive and growing list Bungee Mogale, situated in the Mogale City of Krugersdorp on the West Rand of Gauteng. Bungee Mogale is a one-stop exhilaration station and is the perfect place for those adrenaline junkies seeking that ultimate high. This is the place of no-fear, where members of the public can test the limits of what their minds are prepared to do in order to get that elusive rush.
The jumps available include waist jumps, forward jumps, and backward jumps so that visitors can try out a variation and find their niche. Besides bungee jumping, Bungee Mogale has an on-site adventure circuit, a 320m foofie slide, and a swing bridge, meaning there is more than one way to get your adrenaline pumping. Leave the stress of modern day life behind you literally and challenge your inner being to the extremes during your visit to Bungee Mogale.
Where:
Krugersdorp, Gauteng
Telephone:
+27 (0)83 344-1924